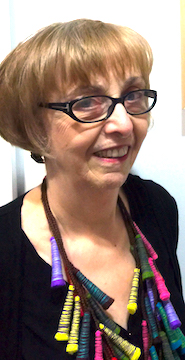 Artist Statement 
I've always been creative, constantly trying out new projects. I've done patchwork & quilting, needlepoint, knitting, crocheting, sewing, weaving, beading, bookmaking, and more. I've worked with fiber, fabric, paper, plastic, wood, metal, and found objects.
In the late 1990s I began cutting pictures out of magazines, newspapers, junk mail, and any paper products I could find. Neighbors left magazines by my door; my dad saved newspapers, calendars, and advertisements for me; and friends gave me the printed materials they would have otherwise thrown away.
I was always interested in collage, and with thousands of little pictures sorted in envelopes I registered for a collage class. Since that first class, I have taken other collage classes, as well as classes in watercolor painting, Polaroid photography, drawing, printing, book making, jewelry, and beading.
I constantly teach myself new techniques, experiment with ways to work with different materials, and share ideas with fellow artists. Many of my pieces come about serendipitously, trying one thing and ending up with something unexpected.
I have pieces hanging in my home & studio; in private collections; and in homes of friends & family. I have been in juried and open shows and have sold pieces. I invite you to take a look at my work.​
About the Artist
If you see a woman walking and occasionally swooping down to pick up a shiny metal object, a sparkling gem, or an interesting piece of plastic, it could be me. I am constantly searching for treasures on the street, at flea markets, in thrift stores, in discarded jewelry, in the trash room in my co-op, and anywhere else I go. When I get home, I soak the day's finds in detergent, rinse and dry them, then squirrel them away in clear plastic boxes and drawers that fill my studio waiting to be turned into a collage, assemblage, or mixed media art piece.
My closet is filled with boxes of plastic, wooden, and metal objects; with beads and buttons; with fabrics and ribbons; with wires and metal sheets; and with anything and everything else that appeals to me. My drawers and shelves are filled with textured papers, including tissue paper, cardboard, and handmade papers, in black & white, colors, and patterns. My file drawers have folders with thousands of images from magazines and junk mail.
I get my inspiration from lots of sources, including museums and galleries, magazines and books, items in shops, art classes, other artists, friends, and dreams. For example, a  few years ago, I saw an interesting plastic placemat at the Museum of Modern Art gift shop, bought it, and covered it with all kinds of small objects I found. Another way I get inspired is by going through my closet, drawers, and shelves. Things I have not seen in a while inspire me to do something new, exciting, and original. Art and creating will be in my life forever. 

Artist Bio

I was born in New York City and grew up in Brooklyn, a few blocks from the Atlantic Ocean.  I always thought I would be an elementary school teacher, but after one year realized it was not what I wanted to do. Instead I became a college textbook editor, working for publishing companies for 12 years, then a freelance technical writer and editor for about 35 years. During all that time, I always had arts and crafts projects to work on. I knitted, crocheted, did patchwork & quilting, created tapestry & loom weavings, and made elaborate scrapbooks, among other things.
When I turned 50 and was forced to spend a lot of time in doctor's offices and hospital waiting rooms, I began cutting images out of magazines – that was the beginning of becoming a serious artist. I took classes and created intricate collages. Eventually I began experimenting with other materials and techniques. I also began studying with instructors who encouraged me to be creative and follow my own ideas.
When I retired, I studied at the New School for Social Research, where I received a Certificate in Creative Arts Therapy, thereby learning new ways to be creative. I continue to study with instructors at the Art Students League who encourage me and help me grow as an artist and person.