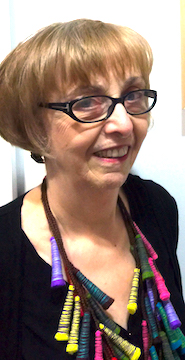 I've always been creative, constantly trying out new projects. I've done patchwork & quilting, needlepoint, knitting, crocheting, sewing, weaving, beading, bookmaking, and more. I've worked with fiber, fabric, paper, plastic, wood, metal, and found objects.
In the late 1990s I began cutting pictures out of magazines, newspapers, junk mail, and any paper products I could find. Neighbors left magazines by my door; my dad saved newspapers, calendars, and advertisements for me; and friends gave me the printed materials they would have otherwise thrown away.
I was always interested in collage, and with thousands of little pictures sorted in envelopes I registered for a collage class. Since that first class, I have taken other collage classes, as well as classes in watercolor painting, Polaroid photography, drawing, printing, book making, jewelry, and beading. I constantly teach myself new techniques, experiment with ways to work with different materials, and share ideas with fellow artists. Many of my pieces come about serendipitously, trying one thing and ending up with something unexpected.
I have pieces hanging in my home & studio; in private collections; and in homes of friends & family. I have been in juried and open shows and have sold pieces. I invite you to take a look at my work.
Enjoy,
Harriet
Harriet Serenkin